PET-MR
Enquire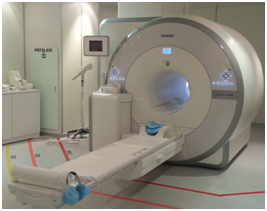 How does PET-MR work?
PET-MR fully integrates two modalities, with different functional methodologies that provide complementary information for the diagnosis and understanding of disease, especially cancers. While MRI delivers precise structural images of the body's internal organs, PET shows metabolic activity in the human body. Now, with the PET-MR, it is possible to scan once and acquire both MRI and PET images simultaneously. Whole-body exams as well as exams of specific body regions are possible.
PET in Cancer
It is becoming quite evident that management of many types of cancers can be substantially influenced, when PET is incorporated into the diagnostic algorithm. This is applicable to the diagnosis, staging and re-staging, monitoring of treatment response, attempt to locate an unknown primary and detection of recurrence of many malignancies.
The disease is a biological process and functional changes precede anatomical changes. Based on the differences of biological activity, PET evaluation of tissue metabolism can detect the probable presence or absence of malignancy much earlier than anatomical changes. In addition, whole body imaging with PET examines all the organ systems in one procedure, not only evaluating primary but also metastatic disease.
PET has become an integral part in the management of lung, colorectal, head, neck, breast, oesophageal, uterine cancers, lymphomas and melanomas. It is also helpful in certain types of gastric, hepatobiliary, ovarian, pancreatic and renal malignacies.